Departments:
Sri Aurobindo Samiti & Sri Aurobindo Bhavan:
On the occasion of the birth centenary celebration of Sri Aurobindo in the year 1972, a National Committee was formed and the then Prime Minister of India, Late Indira Gandhi, was the chairperson. As part of the Programme of the Centenary Celebrations, the Government of West Bengal established the Sri Aurobindo Samiti and the Sri Aurobindo Bhavan by a Special Act(West Bengal Act XXXIV of 1972). The Governor of West Bengal is the ex–officio Chairman of Sri Aurobindo Samiti and the Chief Minister of West Bengal is an ex-officio member. The membership of Sri Aurobindo Samiti is composed of nominees of the State Government and Sri Aurobindo Ashram Trust, Pondicherry.
Sri Aurobindo Bhavan, 8 Shakespeare Sarani, the place where Sri Aurobindo was born, was renovated and the sacred relics of Sri Aurobindo were enshrined here on 16th February, 1973. The memorial shrine has since become a place of pilgrimage. The Bhavan was established with the primary objectives of disseminating the teachings of Sri Aurobindo and the Mother among the members of the public so as to help them to raise their mental and moral outlook and to solve their cultural and spiritual problems in the light of such teachings.
The Bhavan houses a permanent exhibition of photographs and portraits depicting the lives of Sri Aurobindo and the Mother. The exhibition hall is open from 10.30 a.m. to 12.00 noon and 3.00 p.m. to 7.00 p.m.
Present Activities of the Bhavan
General Library and Reading Room:
The General Library and the Reading Room have over 40,000 books and more than 100 periodicals on various subjects. An excellent Reference Section helps scholars of Aurobindonian studies in research work and in-depth studies. Borrowing facilities are available to public for a reasonable fee. Library is open from Monday to Saturday: 12.30 p. m. to 7.00 p. m.
Children's Library:
One of the largest libraries of its kind in Kolkata. It houses about 35,000 books in English, Bengali and Hindi. An up-to-date Reference Service is available. It has nearly 1400 members with Reading Room and Lending facilities. Extensional activities include various competitions held annually. A children's corner/park has been set up in front of the library. Recently one multimedia corner has been opened for children attending the library. Library is open from Monday to Saturday: 2.00 p.m. to 7.00 p.m.
Lectures and Discourses:

Weekly lectures on Sri Aurobindo's and Mother's works, teachings and related topics are held regularly.
Sri Aurobindo Study Courses and Endowment Lectures:
The Bhavan organizes study courses under expert guidance on different aspects of Sri Aurobindo and Mother's teachings. This attracts a considerable number of scholars, researchers and the members of the public.
Five endowments under which lectures and researches are held during a year when eminent Aurobindonian scholars are invited to speak on Sri Aurobindo's philosophy and/or associated topics.
Yoga and Gym:
An indoor Gymnasium has been opened for physical culture. Weekly Yogasana classes are held for men and women.
Ahana-Centre of Art and Culture:
A cultural wing of Bhavan imparts training in the performing arts and also encourages other cultural other cultural and artistic activities in order to enhance aesthetic and cultural values, especially among the children and the youth. Formed in 1980, the centre continues to give regular training in Drawing and Painting, Rabindrasangeet, Bharatnatyam, Kathak dance and spoken English. Classes are held from Wednesday to Saturday. Regular classes are also held on Dramatics and Recitation.
Sri Aurobindo Centre for Research on Social Sciences:
This Centre has been functioning under the able guidance of Dr. Amalendu De as Director of the centre. Research work on Sri Aurobindo and the Mother, Freedom Movement of India and other related subjects are being carried regularly. Some important research works have already been published by the centre. The centre is also conducting Sanskrit classes twice a week in collaboration with HRD Dept., Govt. of India.
SABDA:
Sri Aurobindo book distribution agency of Sri Aurobindo Ashram Pondicherry and Sri Aurobindo Pathamandir, Kolkata are running a selling counter of books, photography etc. on Sri Aurobindo and the Mother and other related topics.
Sri Aurobindo Centre Product:
This unit is engaged in distributing Sri Aurobindo Ashram and other centre products to devotees and general public in order to extend co-operation and assistance to different centres.
Srinvantu:
This is one independent publication unit and publish the famous journal Srinvantu(both in English and Bengali) and writings of Nalini Kanto Gupta and Sri Aurobindo and the Mother.
Sri Aurobindo Society:
Sri Aurobindo Society is also maintaining one office at Sri Aurobindo Bhavan to propagate the teaching of Sri Aurobindo and the Mother by way of publishing journals, books etc.
Functions: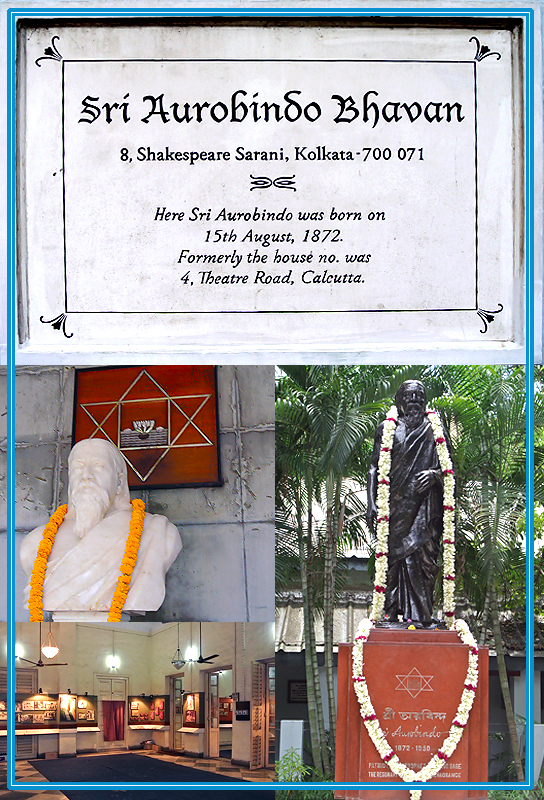 Jayanti functions and special meditation are held at the Bhavan every year on:
February 21 The Mother's Birthday
April 24 The Mother's final arrival in Pondicherry.
August 15 Sri Aurobindo's Birthday
November 24 Sri Aurobindo's Realisation Day
August 15, Sri Aurobindo's Birthday is specially celebrated at the Bhavan every year. The Governor of West Bengal visits the Bhavan and pays homage to the shrine of Sri Aurobindo.
Meditation:
Collective meditation is held around the shrine on Thursdays, Sundays every week from 7.00 p.m. to 7.30 p.m.
Special meditation is held around the shrine every year on the following special days between 7.00 p.m. to 7.30 p.m.
February 16 Installation of Relics of Sri Arobindo
March 29 The Mother's first arrival in Pondicherry
April 4 Sri Aurobindo's arrival in Pondicherry
November 17 The Mother's Withdrawal Day
November 20 The Mother's Samadhi Day
December 5 Sri Aurobindo's Withdrawal Day
December 9 Sri Aurobindo's Samadhi Day
December 31 Midnight Meditation to usher in the New Year from 12.00 midnight to 12.30 a.m.
The Bhavan shrine is open to the public on all days from 6.00 a.m. to 9.00 p.m.

The office is open from Monday to Saturday from 10.30 a.m. to 8.00 p.m.